This month I'll be posting about some of my favorite things! So what better way to kick off the month of favorites, than with my favorite day...
Our wedding day!
7 years ago today my life-long best friend and I got married!
It was February 1, 2003. We had prayed for good weather it was a beautiful, sunny day...it felt like a perfect day in the Spring! It was about 60 degress and there was not a cloud in the sky! And the presence of the Lord was so rich, the whole day through!
My sweet hubby had flowers delivered to my room...

Our amazing ceremony. Everything was perfect! I remember I kept getting so overcome with excitement that I was going to be Mrs. Ryan Wheeler! What an honor!
Look at those kids!!!!!!!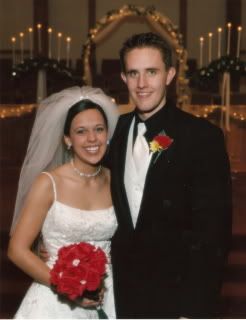 The bubble farewell
I still remember how weird it was for us to kiss in front of all our students! Kids, close your eyes!
These 7 years have been the best years of my life. I would not trade them for anything in the world. Ryan and I are best friends, soul mates and kindred spirits.
~~~~~~~~~~~~~~~~~~~~~~~~
Ry
, you're my favorite man.
I'm so thankful for you. I'm still humbled at the thought that the Lord chose me to be the one who gets to walk beside you, support you and help you in the calling He has created you for.
I have so much fun with you--I love our silliness and laughing so hard with you that I snort!
I love how you lead our family. I have no fear in where our life will take us because we have you as our head.
I love how we can't fall asleep at night because we're too busy talking and laughing.
I love your your gentle leadership, your bold obedience and your shameless pursuit of righteousness.
And as we always say, I wouldn't want life without you!
With my heart and life,
Your Grace.