I have labeled as much as I can in our "toy room", not only to help with a quick clean-up but also to encourage my boys to read what they see.
Each of our toy tubs is labeled with both a picture and the name of the contents.
So when I tell the boys to "put the balls away", they not only see where it goes, they are seeing the word related with the picture.
I have done this just on the simple sets like "Balls", "Farm" "Cars", "Legos", "Trucks", "Trains" and so on.
It's just a simple idea to encourage learning in a typical day to day activity!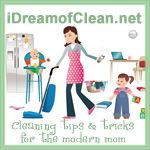 and now also "
Tuesdays Tips
"!