Well, okay,
literally
, I
am
at home (
come on, 4 little kids? Rarely am I anywhere else!
) but "The Mommy On the Bus" had to SAY something! :)

What I mean to say is, I'm not "home" at my blog today, because I've been invited to I Dream Of Clean as a guest poster!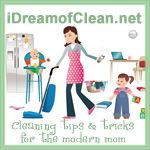 So come visit me over there today! I'm sharing
how to set up a chore schedule for littles
!

And If you are visiting from "I Dream Of Clean", WELCOME!!!

Glad you stopped in!

I hope you take a few minutes to look around, after all, I really do dream of clean! Sometimes I even obsess about it (see
HERE
).

And If you too, "Dream Of Clean",

here are

a few more posts of mine that you might be interested in...


Cleaning Tip: Let The Lights Lead You
The Benefit of Chores for Little Kids
What Chores For Kids Look Like Around Here
What Chores For Momma Look Like Around Here
My House Managing Binder

And one last, fun post giving you Just a Taste of Little Things I Do To Simplify My Day